World's no.1 ecommerce enabler
How to Register on Amazon as a Seller in India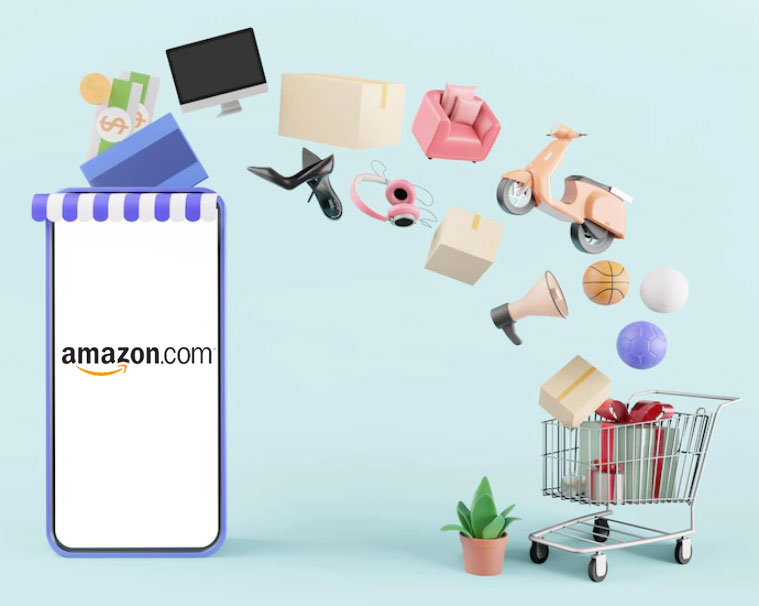 How to Register on Amazon as a Seller in India

---
Amazon is without doubt the worlds biggest retail online ecommerce marketplace and it is also Indias biggest in terms of millions of customers, over 10 lakhs sellers and the widest product range with delivery to most serviceable pin codes across India.
Amazon is a global marketplace and offers a wonderful opportunity for established as well as new traders to get on the Top. so, learn How To Sell Products On Amazon - Full Guide For Beginners and start selling now and make profits.
With just one easy step of registering as a seller on Amazon you can jump start your business. We show you how to register on Amazon, also we provide Amazon seller account management services and product listing services so if you are interested in selling online we can help you to grow your business Globally.
We provide Amazon seller account management services, Amazon product listing services, brand store creation, Boost sales, registeration, brand approval, promotion and advertisiment etc. For more details Register Now...!!!
Information on Amazon seller registration
In order to sell across India on Amazons platform you do need to register as a seller on Amazon India portal. You can start a new business online on Amazon, or get your existing business on to the Amazon marketplace by following the simple Amazon seller registration process.
Why is it beneficial to register a business with Amazon?
Here are cogent reasons to take your business online on the Amazon India marketplace:
Access to millions of buyers across India, translating to fast growth
Delivery to serviceable pin codes across India using Amazons shipping services and FBA
Guaranteed payments every seven days
Full marketing and promotional support on Amazon
Entities eligible for Amazon seller registration
The following entities are eligible to register as a seller on Amazon:
Sole proprietorship run by an individual
A partnership firm registered under the Indian Partnership Act 1932.
A limited liability partnership firm registered under the LLP Act, 2008
Any public or private limited company registered under the Companies Act, 2013
Documents required for Amazon seller registration
The set of Amazon seller registration required documents is given below:
Copy of PAN card of sole proprietor or the partnership or company
Address proof of business place from where products will be shipped
A copy of your current accounts cancelled cheque showing bank account number and account type with the account holders name and IFSC code
Copy of GST registration certificate. You must have GST if you wish to sell taxable products. If you are selling GST exempted products then you can carry out Amazon seller registration without GST.
You must furnish valid email and mobile phone, both of which must be verified
Process on "How to register as Seller on Amazon?"
This is how to register on Amazon as a seller:
Set up your account on Amazon seller central portal using your email and password
Log in to Amazon seller central and start the Amazon seller registration process. There are no Amazon seller registration fees to be paid-it is free. You will get OTP to proceed.
As you fill in the form to create your seller profile, you will have to upload your PAN, Aadhar, GST certificate and copy of cancelled cheque and bank statement.
Amazon will check and verify your details and then their representative will take the process forward.
You will receive a confirmation of your success in registering as a seller on Amazon and you will get approval of your Amazon seller account and Amazon seller login details.
An important point to keep in mind at the second stage
The next second stage is crucial since you will be creating your product catalogue and uploading product listing. Keep these in mind.
Pricing at which to list your product - consult Digicommerce to know Amazon seller fees, market competitors' prices and profit margins.
Listing your product in the right category
Creating the right title with the use of the right, researched keywords and descriptive content incorporating researched keywords
Excellent product photography from different angles
FAQs on Amazon Registration

---
Provided you have furnished all details and documents required by Amazon, you could get your Amazon seller account approval in just a couple of days.
No. Amazon does not charge any fees for registration. It is free.
It is advisable and recommended that you obtain a business identity, create a business bank current account and have registration (GST, PAN) in your business name.
Yes, you can contact Digicommerce to handle it for you.
Conclusion
You can be master of your destiny and grow rapidly once you register as a seller on Amazon and sell to buyers across India. It is the smart thing to do to take your business online on a well known online marketplace like Amazon.