Would You Choose Alibaba or AliExpress for Dropshipping?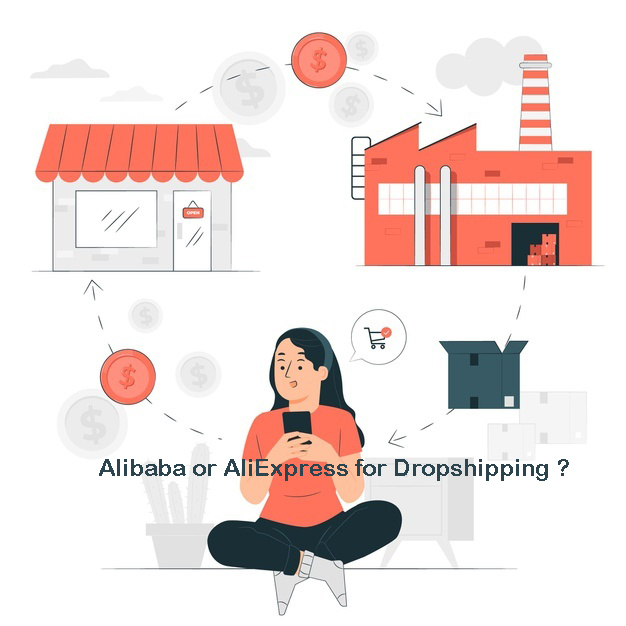 In the ten years since it was launched, Alibaba has gone on to become the world's biggest online B2B ecommerce platform. In the process it has also spawned B2C platforms like Taobao, tmall and AliExpress, the latter a favorite with buyers across the world looking for affordably priced products. Alibaba is B2B and facilitates direct bulk sales between manufacturers and buyers globally on its marketplace. Sellers pay a fee to Alibaba on sales they make through the platform.
AliExpress is similar to Alibaba in that it is an online marketplace and it also facilitates sales from manufacturers and dealers to end buyers but with the difference that retail sales are the norm.
You have these two platforms before you. Smart businesses are taking advantage of this by buying in bulk on Alibaba and then displaying the same products on consumer portals like AliExpress or their own ecommerce sites. A business can procure bulk products from sellers on the Alibaba platform, store inventory and sell the same products in retail on AliExpress, Amazon and similar sites or their own ecommerce site. They can also sell in bulk. The only drawback is that they must have products shipped to their warehouse and store them until a buyer shows up in which case they must ship out the product. The shortcut to this is to get their original supplier to ship directly to the end customer in a process known as dropshipping. This saves time as well as costs of shipping and storage. The dropshipping feature can be arranged directly on the Alibaba platform or through AliExpress that offers Alidropship solution.
Dropshipping on Alibaba
The general way of doing business on Alibaba is that a buyer contacts the seller, initiates negotiations, places orders and pays and the seller dispatches goods to the buyer. However, Alibaba also offers dropshipping program. It specifically displays products and sellers with dropship facility.
The process of dropshipping on Alibaba is simple.
(1.)
You create a dropshipping buyer account on Alibaba.com and link it to your AliExpress store or to your own ecommerce store.
(2.)
You search for products through the Alibaba dropshipping center and add these products to your import list and import the list of selected products.
(3.)
The next step is to push the import list to your AliExpress store or your ecommerce store.
(4.)
You receive an order and pass it on to the Alibaba dropship supplier. The supplier will then ship the product directly to your customer. This facility also includes tracking orders and shipment.
The only snags you are likely to come across when looking for dropshipping by Alibaba suppliers is that not all suppliers agree to dropship. If you find a particular seller whose products you like but if they are not agreeable to dropship then you cannot go for this facility. Vetted, verified and gold suppliers may not dropship. Many manufacturers and wholesalers on Alibaba are not ready to dropship smaller quantities.
AliExpress Dropship
AliExpress could be the better dropship option, especially if you look to sell in small quantities, even one-off, to the retail buyers. AliExpress offers Alidropship automatic solution. For this you need to set up your storefront on AliExpress, or better still, your own ecommerce with a hosted ecommerce website. You could source from Alibaba and display the same products on AliExpress or your ecommerce site with a price adjustment to account for profits. AliExpress provides a plugin for your ecommerce site to automate adding products, prices and starting the dropship process.
Apart from the big advantage of AliExpress Alidropship facility, you also enjoy the benefit of a variety of payment channels not available on Alibaba. Alibaba sellers usually ask for bank transfers, Letters of Credit or eChecks whereas, on AliExpress you can use regular ecommerce models such as PayPal or credit card or debit card or bank transfer. This will be more convenient for your retail buyer.
Alibaba or AliExpress for dropship?
(1.)
It depends. If you are into wholesale dropshipping and provided you can find gold suppliers on Alibaba ready to dropship for you then that is a better option.
(2.)
If you plan to buy wholesale and then sell retail or in bulk using the dropship model then AliExpress could be the better option given its Alidropship facility and various modes of payment facility.
More about AliExpress dropship
Join AliExpress and the Alidropship program. This is what the program offers:
(1.)
AliExpress offers assistant to set up an online store on your domain and hosting.
(2.)
AliExpress offers a replica of its site so you get quite sophisticated and advanced ecommerce model for your storefront backed by the Alidropship support. Their team sets it all up for you.
(3.)
Once you set up the store you can import products directly on to the store and display them.
(4.)
Buy in bulk from sellers on AliExpress (or Alibaba) and dropship in bulk or retail.
Dropshipping is a bit complicated and much depends on your finding the right, verified, trusted and vetted supplier you can trust. This is because you have no way to inspect the products prior to shipment and must repose trust in the seller as regards numbers and quality.
Leave a Comment
0 Comments
Alibaba Services
On Alibaba.com, we have developed customized Minisite.