World's no.1 ecommerce enabler
How to Sell Products on Meesho - A Complete Guide For Beginners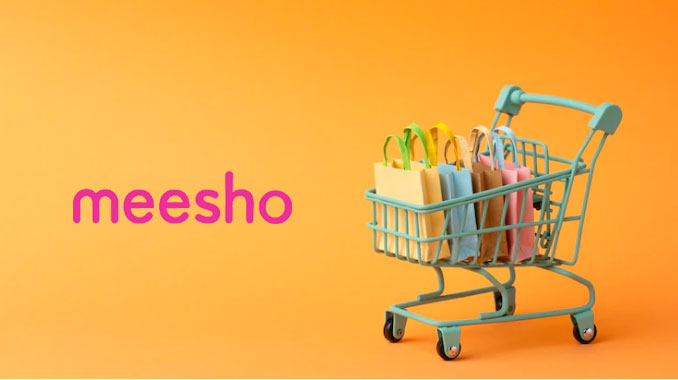 How to Sell Products on Meesho

---
Meesho is making waves in the online retail marketplace with its focus on apparel, beauty and health products, jewellery and accessories, electronic devices and appliances, 700 categories in all. It is an ideal platform to join as a seller and achieve unprecedented success in a short time. One of the best advantages for sellers on Meesho is that you access 11 crores buyers and pay 0% commission. Meesho serves over 28000 pin codes for delivery and it has a seller base of over 6 lakhs. Sellers receive solid support from Meesho to help them to grow fast. Let Digicommerce help you to get on to the Meesho platform. Read this post on how to sell on Meesho and achieve success quickly.
How to start Selling on Meesho

---
Follow the steps in this guide to become a seller on Meesho.
Create a Meesho seller account
This is how to register on Meesho as a seller:
Logon to Meesho.com, click the become a supplier link, and click the "Start Selling" button which open a form in which you furnish your email and mobile to start the process of creating your seller account.
Meesho takes the process forward.
All you need to furnish is your GSTIN number and current bank account details
Meesho will confirm your account on verification of your details after which you can login to your Meesho seller control panel.
Start Listing Your Products on Meesho
The next step in the process of how to sell products on Meesho is to upload your products to your storefront.
Login to your supplier panel in the account you have just created on Meesho.
Click on Catalogs Upload link and click on add new catalog in bulk
Next, enter the product category in the search box and make sure you choose the right one from the drop down list, or create your own category.
Click on Download Template link. The template looks like an Excel sheet.
Fill in the form with product details, following instructions in the form.
Fill in the template. You can input multiple products using this template.
Go back to the supplier panel
Click Upload the File, select the file you have created.
If you wish to upload a single product then click on the Catalogs Upload link
Click next on Add Single Catalog link
Next, select product category from the list
Upload product images from your hard disk and input descriptive title and content. Minor details such as color, can be edited while you copy-paste the same content for the same product but with a different color.
How to Start Getting Orders on Meesho

---
The next step in how to sell products on Meesho is to start getting orders. Simply uploading catalogs is no guarantee of orders. You have to popularize your link through social media channels, WhatsApp and through Meesho promotions. These are a few steps you can take.
Add more catalogs - the more products you have on Meesho, the higher your chances of securing orders. The best practice is to upload over 5 catalogs, each with 3 to 5 products, which will translate to higher visibility.
Assure fast delivery - Use Meesho's fast track delivery or its next-day-dispatch service. Better still, include shipping in the final price
Keep price competitive and in-line with what other sellers are charging for similar products, or better still, keep the price slightly lower to start with.
Join Meesho's ad campaigns - Digicommerce can help you plan and implement sales strategies on Meesho. For example Meesho offers a Rs 1200 plan in which you can run advertisements for your catalog.
Shipping and Order Delivery
One important part of selling on Meesho is to be good at Meesho shipping and delivery to assure customer satisfaction. This is how the Meesho order process works:
Meesho sends a notification through mail and to your supplier panel message inbox.
Always keep track and check throughout the day for such notifications.
Acknowledge and accept the order through the supplier panel.
Pack the product, download the label and manifest from the supplier panel, print and affix the label and inform Meesho that the package is ready for shipment
Meesho's delivery team will arrange for pickup and onward dispatch.
Payment
The best part of selling on Meesho is that you do not have to worry about payments. Your buyer may choose COD or make advance payment. Meesho will transfer funds directly to your bank account on the 7th day from the date of delivery of the shipped product. You will see notifications of such payments received through your supplier panel.
Top Benefits of Meesho Seller Support

---
While larger marketplaces like Amazon and Flipkart may have complex processes and many rules, Meesho's system is simpler, and, besides, Meesho offers excellent support to sellers. Now that you have progressed past the how to become Meesho seller, it is time to know more about benefits.
Large customer base
Meesho has a customer base of 11 crores buyers spread across India. That number is impressive. If you can sell to even 0.5% of this buyer base, you will see good growth.
Ability to Create a Solid Brand Identity
Meesho's policies are seller-friendly and it helps you to protect your brand as well as promote it through its campaigns. Meesho has high visibility and buyers searching on Meesho will certainly get to know your brand.
Simple Workflow
Meesho does not have a complex web of rules and compliances. You simply register, sell and receive payments.
End-To-End Assistance
Meesho support team is very helpful. Even if you do not know how to register on Meesho or how to sell products on Meesho, you can be sure they will provide guidance at every step of the way, even advise you on packing and shipping as well as pricing.
Secure Payments
Meesho assures direct transfer of payments to your bank account with a 7 days payment cycle, counted from the delivery date.
Smooth Delivery Process
You do not have to worry about finding a courier or courier charges. Meesho has partnered with several couriers to deliver to over 28000 pincodes across India at the lowest rate. All you have to do is to pack and prepare product for shipment; Meesho does the rest. In case of returns, it has a free return shipping policy with zero fees for the first month.
What is the Pricing and Commission on Meesho?

---
It will come as a pleasant surprise to sellers on Meesho that Meesho does not charge any commission on the sale price of your product, nor does it charge payment transaction fee. You receive the entire value of the order directly in your account.
How to Deliver Your Products on Meesho?

---
How to sell products on Meesho is quite easy, especially since you do not have to worry about shipping. Meesho has tied up with logistics partners throughout India to deliver to over 28000 pincode locations at the lowest cost. It has a standard shipping plan and a Next Day Dispatch (NDD) Program. You can offer this to attract more buyers and ensure higher visibility in Meesho searches. All you have to do, once you receive an order, is to pack and label the package. Meesho logistic partners will pick up the package for onward transmission to the buyer.
Can You Also Sell Products on Meesho Without GST?
If you have seen the section on how to register on Meesho as a seller, you will observe that the basic requirement is that a seller should have a GSTIN number linked to their bank account. There are exceptions. There is an exemption limit of Rs 40 lakhs in some states and Rs 20 lakhs in some other states (Arunachal Pradesh, Manipur, Meghalaya, Mizoram, Nagaland, Puducherry, Sikkim, Telengana, Tripura and Uttarakhand). If your turnover is below these limits then GST registration is not required to become a reseller on Meesho. Still, it is advisable to obtain the GST registration certificate.
Tips to Sell Better on Meesho

---
At the very least, do this:
Create more than 5 catalogs, each with 4-5 products. Give the right descriptive title and detailed content. Include top quality images of the product taken from different angles.


Study competitor prices on Meesho and price your product accordingly and, if possible, include next day dispatch.


How to sell products on Meesho in large numbers requires you to start promoting your products and your Meesho page. You can conduct offsite campaigns on Facebook, Instagram, Pinterest and Whatsapp.


You can conduct onsite campaigns on Meesho using Meesho ads for which you pay to promote your catalogs. Digicommerce will handle your Meesho ad campaigns. Once you take part your product moves on top of search results on Meesho. Buyers will prefer to click on the top listed products. Meesho offers Recommended Catalogs program and Auto CPC programs to sell better. You can set budget and duration of Meesho ad campaigns.
Maintain contact with customers after a sale and get their positive ratings. Positive ratings help you to get the "M" trusted label and that will help to convince more buyers to buy your products.
FAQ

---
It certainly is because Meesho does not charge exorbitant seller fees that other marketplaces do. In fact it charges zero commission and nominal shipping. You can price your products lower, and, with proper campaigns, make big profits on sales on Meesho. Meesho has a customer base of 11 crores across India. You can reach out to this customer base through Meesho.
The main headline categories are

Women's fashion
Men's fashion
Kid's fashion
Home & Kitchen products
Beauty & Health
Jewellery & Accessories
Bags and footwear
Electronics
With this there are many sub-categories.
Meesho may not permit sales of old clothes on its platform.
How to sell products on Meesho is quite simple.
You first register to create an account on Meesho.
Once registered you login to your seller account and upload product catalog
Promote products, your Meesho pages and take part in Meesho ad campaigns
Meesho does not charge any registration fee. It charges zero percent commission on sales. It does not charge payment gateway fees. To all intents and purposes, Meesho offers the best deal to sellers.
The first step is to visit Meesho site Meesho.com, and click on the "become a supplier" link at the top right. Thereafter it becomes easy to follow the steps such as furnishing your contact details as the first step to how to register on Meesho as a seller. If it is too complex for you, let Digicommerce team help you register and start selling products on Meesho.
Click the "become a supplier" link on Meesho.com and furnish your mobile number and then click on the Start Selling button. Meesho will respond and guide on further on how to register on Meesho as a seller and how to sell products on Meesho.
---
Conclusion

---
Meesho is fast making waves in the online B2C marketplace with its seller-friendly policies such as zero registration fee and zero commission. This is the best place for small business to get started in the online marketplace, sell at a low cost and reach out to over 11 crores customers in 28000 pincode locations across India. It is the best win-win situation, much better than what other marketplaces offer.