World's no.1 ecommerce enabler
Limeroad Sale Online - How to Sell on Limeroad - Limeroad App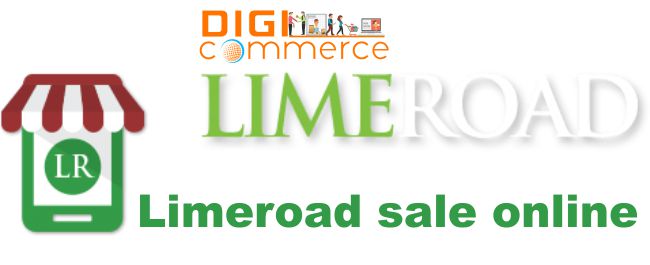 A Complete Guide on How to Sell on Limeroad
Limeroad is in the limelight for being one of the top online fashion stores with a turnover of Rs 42.6 crores. Anyone who designs fashion garments, manufactures apparels or deals in clothing and fabrics can get on the Limeroad marketplace and start selling. Here is how to sell on Limeroad. Limeroad follows the B2C marketplace model. It connects sellers with retail buyers with more than 20000 registered sellers. Limeroad acts as the facilitator for making payment for buyers and for sellers to receive payments from buyers.
Through DigiCommerce, start boosting your business on top Indian and Global online portals like Amazon, Flipkart, E-bay, PayTM, LimeRoad, Voonik, Snapdeal & Shopclues.Onboard your self online As low as 18,000/- INR . Contact us
Read More How to sell on Flipkart, Amazon, Snapdeal, PayTm, Voonik, Shopclues and Ebay
Create Limeroad seller account
Before you can sell products on Limeroad you have to create Limeroad seller account. You can start Limeroad seller registration on a desktop but it is better to use the Limeroad app.
Documents required for registeration on limeroad -
1. E-mail id
2. Select gender
3. GSTIN Number
4. Cancel Cheque
5. Address Proof (Aadhaar Card, Electricity Bill, Telephone Bill)
6. Pan Card
7. Digital Signature With Company Stamp
8. Trademark Certificate
9. Authorization Letter
The same Limeroad seller app serves as a dashboard to help you upload product images and details to your storefront on Limeroad. You have to fill in PAN number, bank details, name, GST and address besides supplying documentary proof if called for. The process takes less than a half hour and you receive confirmation making the storefront active in six hours or so after which you can take the process further. Once you register use the app to set up a storefront with unique logo, banner and name. You can upload any number of products without limits provided these are genuine and fall under the permitted categories in order to sell products on Limeroad. You can upload as many as seven images per product and also in size variants of the product. Once you have uploaded and started selling you can manage products on Limeroad using the app.
Start Selling on Limeroad
Upload images and product details and wait to be found. You can become active in selling products on Limeroad by sharing with prospective customers and through social networks via the Limeroad app. Order can be managed from the order management section in the app. You pack product using your own packaging materials at your own cost and ship at your own cost. You can show shipping included in the price or charge extra.
Limeroad Payment or charges
Once seller ships a product and it is received by the buyer, Limeroad will release payment considering a 15 days cycle. Limeroad offered its app for free to sellers but may levy a charge later on but at the moment it is free and there are no hidden charges. However, the commission ranges from 25% to 30% on which one has to pay service tax as well. Bear this in mind while pricing the products.
Want to sell products on other platforms
The requirements for becoming a seller on most of the ecommerce platforms are same. You can also become a seller on Flipkart, Amazon, Ebay, Shopclues, Paytm, Snapdeal and Voonik to boost their revenue.
"How to sell on Limeroad is an easy process and anyone can get started with minimum products"
Limeroad customer care - https://www.limeroad.com/customer-support
We provide all listing services, account creation, product uploading, brand approval, promotion etc. For more detail contact us