About Alibaba and Step by Step Guide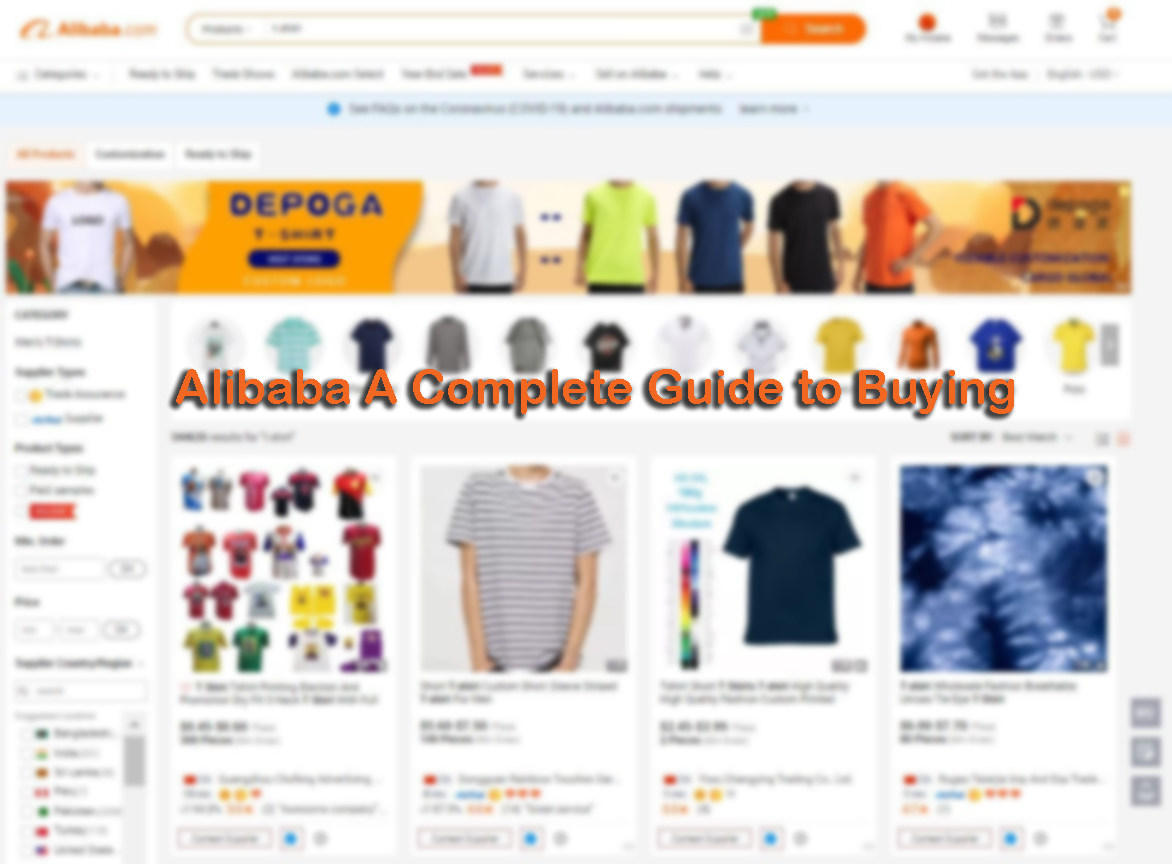 Jack Ma founded Alibaba in 1999. Today it has matured into the premier global B2B marketplace where millions of businesses across the world buy and sell their products. Alibaba operates out of China but serves businesses in 190 countries, over 40 industries and over 5900 different product categories covering the spectrum of raw materials to finished products. If you cannot find it on Alibaba, you may not find it easily elsewhere at an affordable price. The star attraction for B2B buyers and sellers is the underlying high-tech platform, a range of support services and that prices are affordable. It is a secure, trusted platform for B2B sales and purchases, backed by Alibaba guarantees like its trade assurance policy and product inspection services as well as the Pay Later option. Apart from these facilities, one of the prime reasons for Alibaba's success in the B2B segment is that the process of purchase/sale mimics that of the B2C platform. Buyers simply view a product, add to cart and then buy making online payment. There is also the option to contact seller and negotiate bulk and long term supplies. Incidentally, TaoBao and Aliexpress, the retail B2C portals are also owned by Alibaba, extending their reach.
The question is how to find the right products, suppliers and prices on Alibaba. It can become complicated considering the vast number of users on this platform that includes manufacturers as well as dealers.
Safety
As an online B2B marketplace, Alibaba has put in place a variety of safety mechanisms. Still, there are users who may take advantage. Therefore, it is in your interest to stay safe and conduct due diligence before you proceed to buy from sellers on Alibaba. Steps could include:
Buy only from Chinese manufacturers or their authorized dealers. You should check the company name and their website.
The Gold label is an indicator of trustworthiness of the seller so prefer only Gold suppliers.
Use a supplier database like Jungle Scout to check the export history of a supplier on your radar.
Start with a small trial order to check pricing, speed of shipping, packaging and quality of product.
Pay only through Trade Assurance method of PayPal to start with. Once you establish regular supplies then you can use bank wire transfers. In any case, you must ensure that the name of payee is the same as the company name. Avoid transactions with sellers who ask you to make payment to a third party.
Choosing the Supplier: Non-Gold and Gold Supplier on Alibaba
There are two categories of sellers on Alibaba. One is the Gold label supplier and the others are non-Gold label suppliers. Gold suppliers enjoy certain advantages such as:
Instant responses to queries in their inbox
Online chat with trade manager
Full access to buyer contact
Facility to set preferred inquiries and thus weed out those that are not worth it
Facility to receive recommended inquiries
What this means is that buyers receive prompt responses and can proceed to discussions and negotiations. Gold suppliers pay for premium ranking and that is accorded after a vetting process. Still, it is no guarantee of top quality product since vetting is limited. Even non-Gold suppliers can supply quality products at the right prices provided you are careful.
As said above the supplier may be a dealer or reseller or the actual manufacturer. You must check their terms of supply, quality guarantees and replacement policies as well as pricing structure and minimum order quantity before you proceed further.
Now a look at the step by step process of buying on the Alibaba platform.
Register an account
It is best to register with a business account considering that Alibaba is a B2B marketplace. Next, log in and start your search.
Search
Alibaba's search engine is sophisticated. There are different filters such as products and suppliers across categories. Use the product name to search for a product. Then you can click on sort by Supplier. This method arranges the list better and gives you various details of the product, images, name of supplier, terms of supply, price and the response rate. The response rate is crucial and an indicator of whether you can expect a response or not. It is not mandatory for suppliers to respond to each request from intending buyers. Check the image quality to see if these appear authentic or are taken from other sources.
Short list a few sellers and initiate contact, preferably through email. Avoid gmail address.
Inquire in simple English about specific product.
Incidentally, check for the company website and visit it.
The email response itself should give you a clear idea about the supplier.
Next, initiate an online chat, preferably through WeChat, which is widely used in China.
Comparative Statement and Negotiations
Assuming you receive responses through email the next step is to make a comparative statement of prices and terms of different suppliers.
Based on this you can negotiate prices and terms, provided you are ordering a sizeable quantity on regular basis. Shipping terms must be evaluated. CIF pricing is always preferable compared to ex-works prices or FOB prices.
Once again check MOQ of each supplier. If price is low then the MOQ may be high. Just keep in mind that 1000 may be a big number for you but routine for sellers on Alibaba so there is not much room for price negotiation. It is best to renegotiate once you have bought a couple of lots and are satisfied with the quality. This way you can negotiate for lower MOQ and lower price.
Ordering and Paying
Once you select a supplier and they are agreeable to ship the desired quantity the next step is to place order and pay on Alibaba. Do this:
Request proforma invoice. Make it clear that the proforma includes everything including cost of packaging and CIF/FOB/ex-works indication
For the initial small supply use PayPal or, better still, Alibaba Trade Assurance. You can be sure that supplier will supply, not take your money and then hide.
When you establish regular supplies you may be asked to pay an advance deposit.
Choosing Mode of Shipment
For small quantities always indicate your preference for air courier service even though it may cost more. You get fast delivery.
For bulk supplies sea shipping is much better and affordable but you need the services of logistics to clear goods through customs. It is better to get a CIF quote if you intend to buy in bulk and get orders shipped by sea route. It will take longer for goods arriving by sea. Shipments by sea can be sent in palletized forms (for lower volumes) and full or part container load in case of bigger shipment. Container loads cost less whereas palletized shipments will cost marginally higher.
Note: for the trial run, place sample orders with at least two-three suppliers so that you can gauge exact quality of products once they arrive.
Checking Products
Check products once they arrive. Things to look at:
Quality of outer packaging and inner packaging and labeling
Warrantee card, instruction manual
Overall quality of actual product. Does it compare with what was shown in the photo?
Note: in some items such as electronic devices, the outwards looks may be good but poor quality components may affect durability and performance. Some Chinese suppliers offer different quality grades according to price you are willing to pay. Discuss this with the supplier.
Now is also a good time to discuss warrantee, refund and replacement policies and have a clear arrangement should you receive defective/broken/damaged products.
If you do not know how to get started on Alibaba, either as a seller or a buyer, then get in touch with Digitalcommerce, ecommerce market specialist for complete guidance and assistance.
Leave a Comment
0 Comments
Alibaba Services
On Alibaba.com, we have developed customized Minisite.